Bordering the Adriatic in east-central Italy, Abruzzo has everything needed to make great wines. Proximity to the sea, cooling mountain air in the evenings, a dry and sunny climate, the rolling hills in the foothills of the Apennine Mountains. From Avezzano in the mountains at an elevation of 2300 feet to Pescara on the water is only about 50 miles. Isolated for years by those very same mountains, including the Corno Grande towering at over 10,000 feet, this corner of Italy was never on the tourist radar so it is little known as a wine region. But in fact, it is one of the powerhouses of production – the fifth highest amount of wine produced, coming behind Sicily, Puglia, Veneto and Emilia-Romagna.
This region is the rugged mountainous home to Montepulciano d'Abruzzo, a big red that is widely planted throughout central and southern Italy – it accounts for over 50% of the vineyards found here. Abruzzo is one of the most densely planted areas in Italy, after Sicily, Puglia and Tuscany. Around the town of Chieti, right in the center, it looks like one giant vineyard. Let's see what is on offer from this area, just a few hours east of Rome.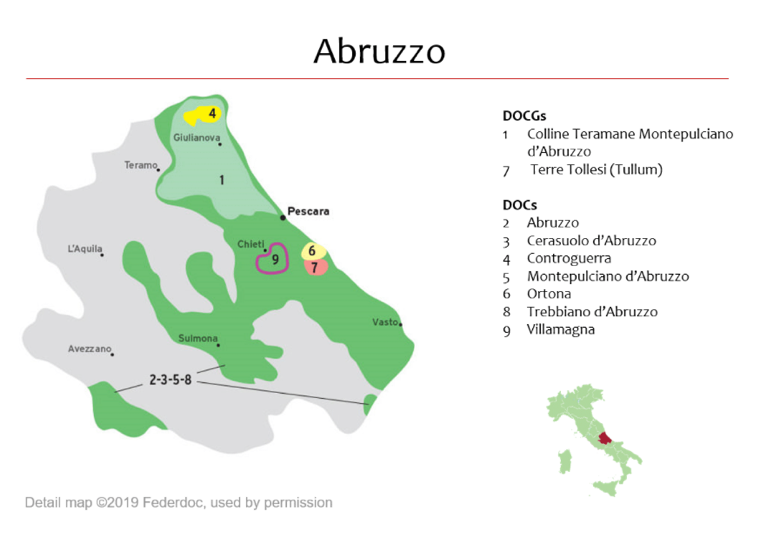 The Piceni, Samnites and Aequi tribes who settled here were growing a white Moscato-like grape which produced a sweet wine called Apianae before the arrival of the Etruscans in the 4th century, BC. The Etruscans brought their viticultural knowhow. But when the Romans arrived in the 3rd century, BC, then things really got going. As per their modus operandi, the Romans brought their technology and introduced the natives to their systems. Vine cultivation in those times mostly centered around the area of L'Aquila and the wine trade flourished.
As in all of Italy, the fall of the Empire brought about the disruption in the wine industry and also a lack of people to work the land during unsettled times. Later however, during the Renaissance, there was a wine resurgence centered again around the city of L'Aquila, anchored by the numerous native grapes of the region. Unfortunately by the end of the 1800's, phylloxera arrived and as in most of Europe, wiped out the vineyards.
When they were replanted, sadly much of this ampelographic abundance was lost and most plots were planted back only to Montepulciano and Trebbiano (Toscano and Abruzzese), which remain today as the main grape varieties.
About 60% of the production is red wine, with Sangiovese and Merlot making up just 4% of that amount. Montepulciano is native to Abruzzo but is grown throughout central and southern Italy, where it was and is considered a "workhorse" grape. It is the second most planted red variety in the country. Once used as a vino da taglio or blending wine, Montepulciano added the elements of color, body and structure to weaker northern wines and much of it was and is exported to northern Italy, France and northern Europe.
As with much of the Italian south, for years Abruzzo grape growers concentrated on the quantity of wine they could produce. Much of the wine industry was dominated by large cooperatives churning out bulk wines, which accounted for more than 80% of what was coming from the region. In the last 20-30 years, the tide is turning with the trend towards the artisanal winemaker who can also have a commercial success with a more boutique and quality product.
Abruzzo now has 8 DOC denominations, and Montepulciano d'Abruzzo Colline Teramane as the DOCG. This is a red wine, 90% Montepulciano and up to 10% Sangiovese with 1 year of ageing required and a growing area in the north, near the border of Le Marche. In the right hands, it could be a wine capable of ageing 30 years.
Montepulciano thrives in the various climate types of Abruzzo – from the Mediterranean coastal area, to the moderate band of hills moving west, and the continental weather of the mountainous inland area. Here is an ideal cultivation area as it is a variety that needs warm summers and a long growing season in which to properly ripen. From the sand and clay marine sediment soil type of the coastal plains, to the marl and sandstone and clay of the hilly regions to the west towards the Apennine Mountains, the grape is found in both areas and both types of soils.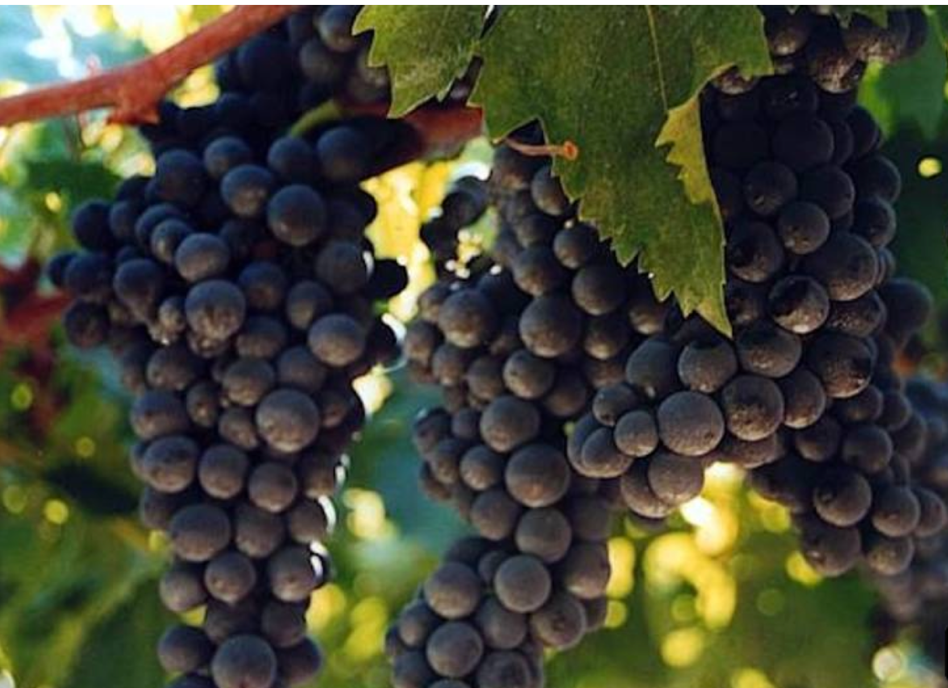 Montepulciano grape on the vine (Photo by Charles Scicolone)
Montepulciano is a somewhat rustic wine with distinctive aromas and flavors, most noticeably herbs such as oregano and pepper and black and red fruits – plums, boysenberries, and sour cherries – and sometimes notes of smoky tobacco. A deep ruby color, it produces a medium to full-bodied wine with high levels of alcohol, tannins and acidity. Needless to say, this is not a meditation or aperitivo wine, but rather one that benefits from being found on the dinner table.
What to pair with this wine? Roasted pork, pizza with sausage, beef stews and game meats, such as wild boar and venison. Local dishes like Maccheroni alla Chitarra (a squared spaghetti cut by hand on a stringed tool, somewhat like a guitar), with a lamb ragu sauce and aged cheeses like cheddar or parmigiana or pecorino – even a big cheeseburger right off the grill. And of course, the specialty of the Abruzzo house, Mortadella di Campotosto, better known as Coglioni di mulo. Translated as "mule balls,", the poor mule has really nothing to do with it. A delicious pork salami with a similar shape as the real thing, it encases a small cube of lard inside as a "jewel."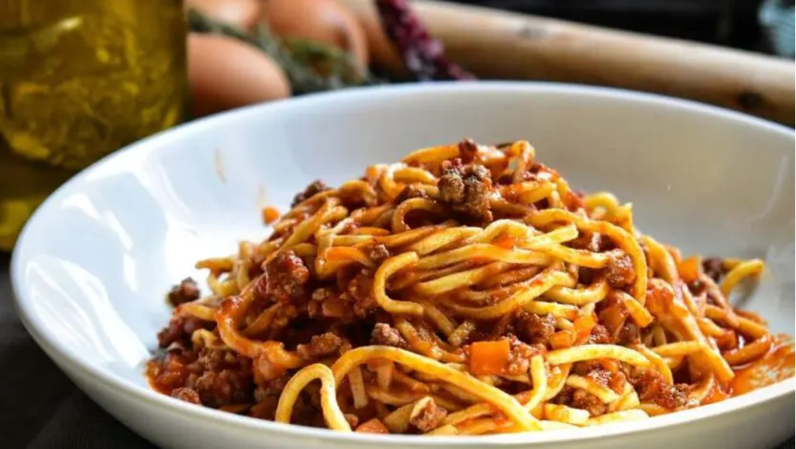 Maccheroni alla chitarra al ragu di agnello (Photo by Belissimmo.jap)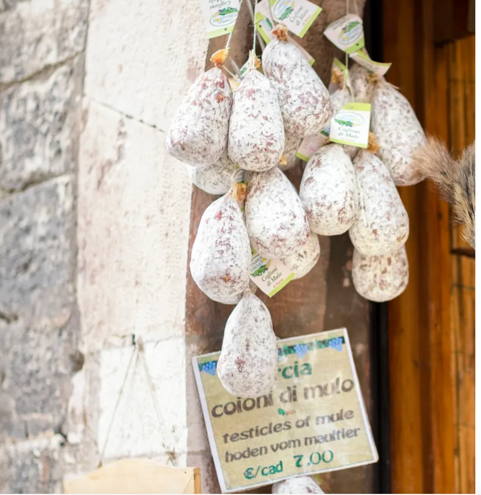 Coglioni di mulo (Photo by Cucina Italiana)
Montepulciano is also the grape of Cerasuolo d'Abruzzo DOC. Cerasuolo is a full-bodied and structured rosato wine of brilliant color, capable of ageing. It holds its own with the other noted rosato wines of Italy, from the Salice Salento in Puglia and Bardolino Chiaretto on Lake Garda. It is a fabulous summer wine with foods on the grill, salumi and cheeses.
Though the white varieties are dominated here by the two Trebbiano grapes, there are a wide variety of other white grapes of interest to be found here – Pecorino, Passerina, Cococciola, Bombino Bianco, Malvasia Bianca Lunga, Montonico Bianco and Malvasia di Candia. In recent years, Pecorino and Passerina have become more popular and are generating a lot of interest in the wine world. Pecorino is native to the southern part of Le Marche. The wine has a similar profile to Sauvignon Blanc, with citrus and herbal notes and a mineral component. It does very well at high altitudes and ripens with high sugar and acidity levels.
Producers of note to search out include Edoardo Valentini, Gianni Masciarelli, Illuminati, Cataldi Madonna, Emidio Pepe, Cerulli Spinozzi, Lepore and Italo Pierantonj.