The Sweet Spot
In a famous scene from "The Godfather", Don Corleone's caporegime, Clemenza, goes out to pick up dessert for his wife. Along the way, he takes care of some family business. He tells his subordinate button man, "Leave the gun, take the cannoli."
Now, there's a Sicilian who knows his priorities!
While a humorous moment of dialogue in the film, it underscores the importance of sweets in
Sicilian life, representing hundreds of years of unbroken traditions. Even the small town will have a pasticcieria (or two!) showcasing all the specialties. Like the food on the island, the desserts owe their origins to the many layers of history and the various conquests to which the island has been subject over the centuries. Each incoming group added a key element or two that remains to this day. Walk in any Sicilian pastry shop and find honey from the Romans, fruits, nuts and spices from the Saracens, cocoa from the Spanish and the polish of French patisserie knowhow – a veritable melting pot of the pastry arts!
The Sicilian pasticcieria has an incredible repertoire of desserts – a playground for the sweet tooth. The shop owner will take great pride in telling you what it is, how it's made and all the ingredients. (It's best not to be in a hurry because there is no way you are getting in and out in 5 min!)
The Saracen invaders had arguably the greatest lasting influence, introducing by the 10th century, the base of so much of the Sicilian cuisine – pistachios, almonds, oranges, lemons, dates, refined sugar, and spices. They imported their culinary art of ices, candied fruits, confections of almonds and pistachios and the preparation of elaborate desserts. Cocoa and chocolate arrived with the rule of the Spanish in the late 1400s and the discovery of the New World. Swiss and French pastry chefs who emigrated to the island contributed the brioche.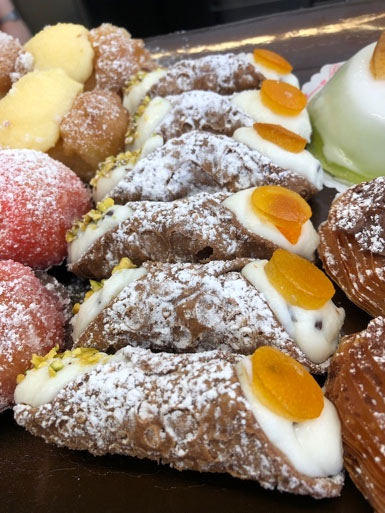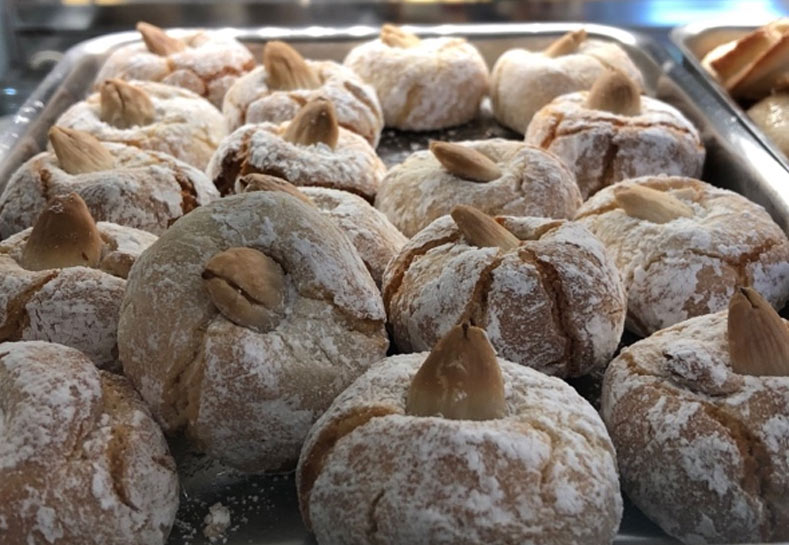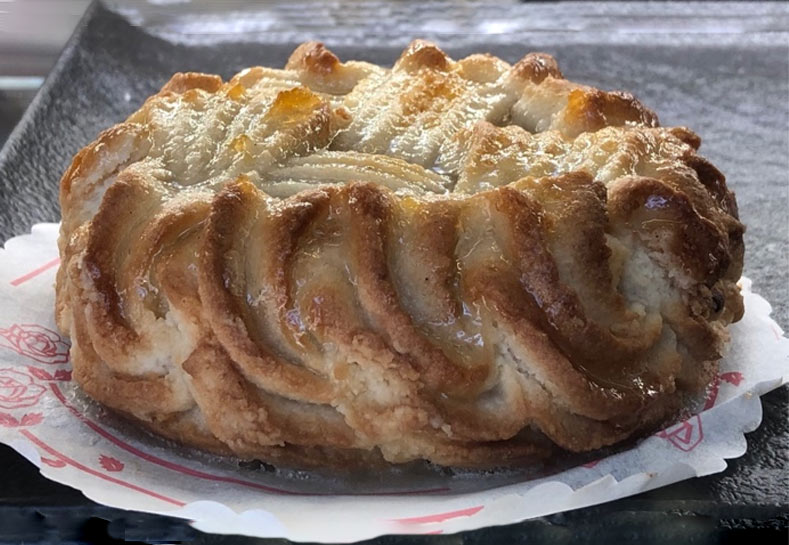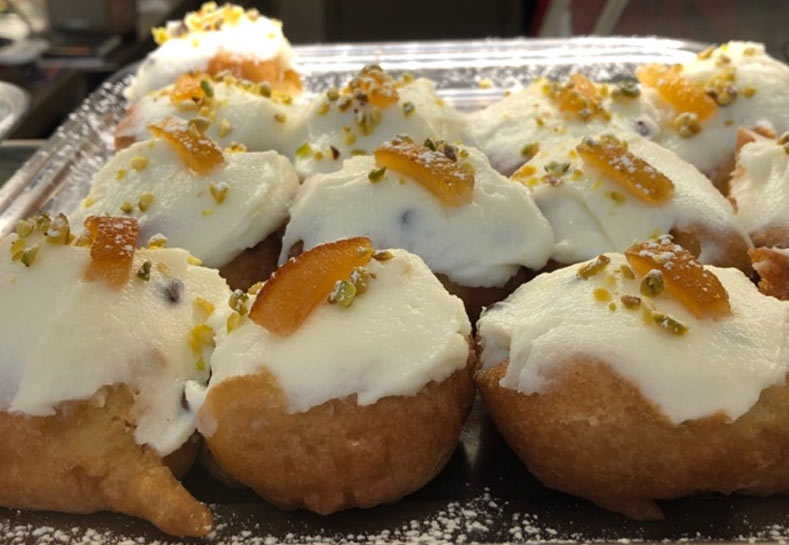 Sfincia (Zeppole with ricotta and chocolate)
From gelato or granite heaped in a brioche to delicate hand-shaped fruits of marzipan to the star of every Italian-American holiday table, the ricotta-filled cannoli, there is something for everyone to like. Adorned with glistening candied fruits, sprinkled with bright green chopped pistachios, molded with soft sweet almond paste and filled with sweetened ricotta, this array of sweets are consumed with breakfast, the coffee break, an afternoon treat and the crowning glory of the ending to a four-hour pranzo on a Sunday afternoon.
Sicilian's penchant for desserts is only matched by their passion for sweet wines, vini dolci. While I often struggle in the US to find other than a Moscato, here on the island is a treasure trove of dessert wines. Virtually every producer makes one, from Zibbibo or Moscato or Grillo –Late harvest, passito or liquoroso. Even if you manage the willpower to avoid dessert, there's always a glass of vino dolce on offer as the perfect end to a fabulous meal.
PASTRY SHOPS in Western Sicily:
Trapani:
Il Dolce Angolo di Michele Mineo
Viale Regina Margherita, 1
Palermo:
Pasticceria Cappello
Via Colonna Rotta, 68
Erice:
Pasticceria Maria Grammatico
Via Vittorio Emanuele, 14
Marsala:
Dolce Tentazione
Via Giulio Anca Omodei, 3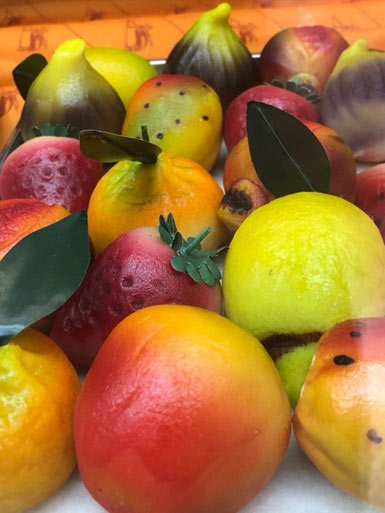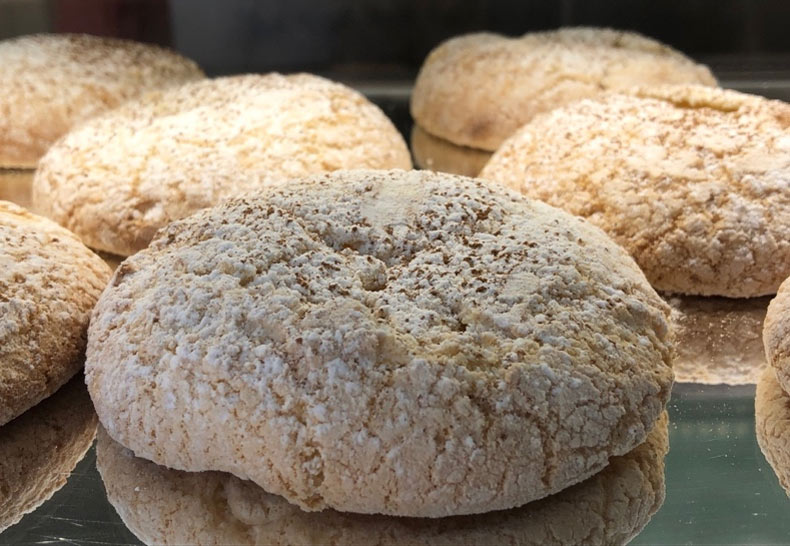 Il Genovese (specialty of Erice)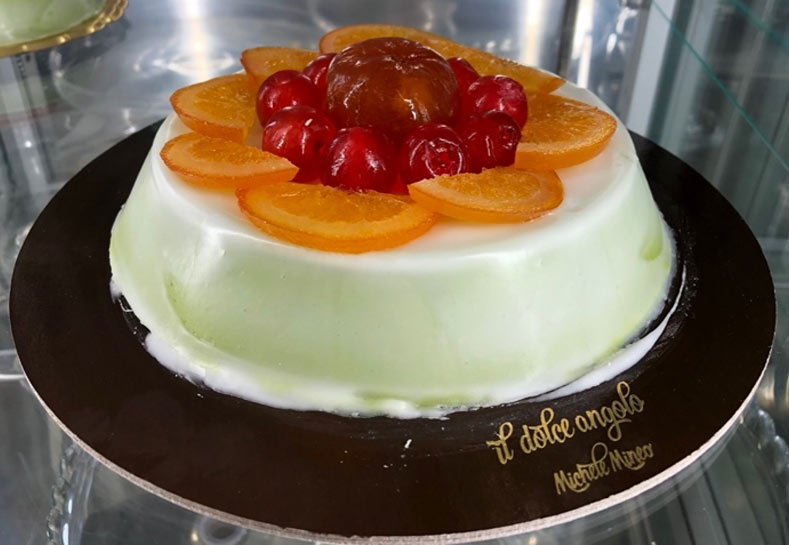 Recommended Dessert Wines

Donnafugata "Ben Rye"
100% Zibbibo
Passito di Pantelleria
A sweet wine of exceptional richness and elegance. Complex, soft and fresh. Intense aromas of apricot, peaches, orange marmalade, dried figs, honey and aromatic herbs, with a note of mineralty.

Firriato "L'Ecru"
100% Zibbibo Passito
IGT Terre Sicilian
Golden amber in color. Aromas of honey, candied orange, dried figs, and peaches in syrup. Delicate notes of bay leaf, oregano, and oriental spices. Balanced and fresh on the palate with mineral notes.

Buffa Marsala
"Superiore Riserva Oro Dolce"
Marsala
Grillo and Catarrato
Intense and complex. On the nose, there are aromas of hazelnuts, walnuts, and almonds as well as raisins, honey and dried figs. Delicate notes of roasted coffee, caramel, and cocoa, herbal notes of oregano and thyme. Sweetness without being cloying, with a persistent finish.

Marco de Bartoli
"Bukkuram Sole d'Agosto"
Passito di Pantelleria
100% Zibbibo
An outstanding example, aged first for 6 months in wood. Brilliant amber color, rich and elegant. A celebration of the senses on the nose. Aromas of fresh-cut herbs, forest floor, apples, lemon, chestnut honey, dates, raisins, dried figs, and ginger. Excellent acidity and long persistence on the finish