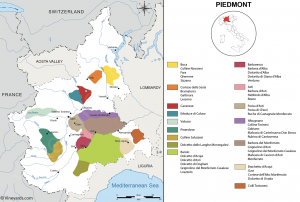 The hills of the Langhe are also known for some of the finest Dolcetto. Dogliani, Alba and Diano d'Alba are the denominations of production. It ripens first of the three grapes of the region and Dolcetto can be grown on slightly cooler sites where Barbera and Nebbiolo would struggle to ripen. It is considered to be the most easy-drinking in style and have ageing requirements of 10-12 months. These are smooth wines, deep purple in color, of moderate acidity and body. There are aromas and tastes of ripe black fruit, flowers and licorice, with a slight bitter-sweet note on the finish.
Barbera, the other part of the triumvirate of Piemonte, is grown is both the Langhe and Roero, north and south of the town of Alba. It is usually planted on sites where Nebbiolo does not ripen. While the regulations call for 85% Barbera and up to 15% Nebbiolo, most producers use 100% Barbera in their wines. The Superiore version has a minimum of 1 year ageing with 4 months in oak. The color is a deep ruby red, with purple reflections, aromas of ripe red fruits, with notes of spices and forest floor. Barbera d'Alba is considered to have a medium term ageing capacity, the longest of the Barberas.
The white grape of the Roero hills is Arneis, its preferred home being the sandier soils to the west of Alba where it has been grown for centuries, and often interspersed with Nebbiolo to protect it in the vineyard and blended with it to soften the harsh tannins. Close to extinction, only two producers grew it in the 1970s. Now more than 7 million bottles are produced and Roero Arneis received a DOCG in 2005. The wine is crisp, dry and full-bodied, with white flower aromas and notes of apricots, apples, pears and almonds. Most bottlings are not oaked and it is sometimes found in spumante style.
In Gattinara and Ghemme, the northern reaches of Piemonte, Nebbiolo changes style. This was an area covered by glaciers and when they retreated, there remained moranic soils of sand, gravel and clay. The subsoils are volcanic in nature composed of granite and porphyry rock. The climate is cooler than the Langhe and is moderated by the proximity to Lago Maggiore and Lago Orta and cool air descending from the Alps. The wines have higher acidity levels and high tannins, so are quite austere when young but have a great capacity for ageing.
Gattinara must have 90% Nebbiolo and Ghemme 85%, with the remainder as Vespolina or Uva Rara. Ageing requirements are similar, with 35 months for Gattinara, with 24 months in oak and 34 months with 18 months in oak. Riserva requires 47 months, with 36 months in oak for the former and 46 month, with 24 months in oak for the latter. These wines are slightly lighter in color and body, but have the same profile of violets, red berry fruits, tar, leather and forest floor.
The star of the northern region for white grapes is Erbaluce. Grown in a glacier basin around the towns of Caluso and Canavese, the wine is found in still, sparkling and passito styles, although it really shines in the latter two formats. Produced here since the 1600s, the name reflects its qualities – 'Erbe" meaning grass or herbs and 'Luce', capturing the sunlight of the Alpine foothills. Some compare it to Chenin Blanc of the Loire Valley, with its refreshing extra high acidity. Tasting notes – mountain herbs, alpine honey, distinct minerality, grapefruit, citrus peel and honeydew melon.
From the southwest, the hills of Monferrato are relatively recent, speaking from a geological point of view. Created from the retreat of the Padano Sea, about 15 million years ago, there are three types of soil here: Terre Bianche, the 'white lands'; Sabbie Astiane, the 'Asti sands'; Terre Ross,: the 'red lands'.
Barbera is grown here in the denominations of Barbera d'Asti and Nizza. Northeast of Asti, the tiny town of Castagnole Monferrato produces a native variety called Ruche, produced here for centuries and found virtually nowhere else. This is a distinctive wine with intense perfume of roses, fresh red berry fruits, especially strawberry and spice. It is medium bodied, with noticeable tannins and a slightly bitter note on the finish. It is an especially wonderful red wine for summer.
Two other native red grapes make their home here – Freisa and Grignolino. Both are easy drinking wines of pink ruby color and should be drunk young and slightly chilled, with similar profiles of fresh strawberry, raspberry and high acidity.
Once part of the city-state of Genoa, the area of Gavi is known for its white grape, Cortese. Grown in 11 communes in limestone-rich clay soils in the province of Alessandria around the town of Gavi, it is a refreshing white wine now gaining popularity. Characterized by refreshing acidity, with a note of minerality, the wine has aromas of fresh citrus and almond. For the most part, it is meant to be drunk young and the majority of producers use stainless although a few are trying oak for maturation.
In the very southeast corner are the hills around the town of Tortona, the Colli Tortonesi. This area has been gaining considerable notice for a native white grape called Timorasso. Until the 1990's, hardly anyone outside Piemonte would have heard of this grape. Known also by its unofficial name of 'Derthona', it is quite capable of ageing and can be produced as a Riserva or in spumante style. It is a white wine of strong minerality, aromas of white flowers, citrus, peach and apricot and honey.
While the spotlight centers on the red wines here in Piemonte, the real engine in the wine economy has long been the white sparkling wines of Asti. As with Lambrusco in nearby Emilia Romagna, many turn their noses up at these frizzante and sparklong wines made here for centuries. The smaller artisanal producers, using the traditional method of secondary fermentation in the bottle, are making excellent examples of an off-dry sparkling wine, similar to best Proseccos. Excellent for an aperitivo, they have aromas of peach and apricot, with refreshing acidity and crispness. Make no mistake though, the DOCG of Asti is the most productive in Italy. In 2020, 53 million bottles of Asti Spumante and 34 million bottles of Moscato d'Asti were made!
Moscato d'Asti is a delicate slightly sweet and lightly frizzante wine, just perfect served chilled for dessert or to pair with fresh fruit, especially peaches. The aromatic Moscato Bianco grape really comes through in its aromas of orange blossom, citrus, honey, peach, apricot and sage. It can also be produced as a late harvest wine.
Well-known throughout Italy is a sweet red sparkling dessert wine called Brachetto d'Acqui from the ancient Roman spa town of Acqui Terme. While the sparkling version is most popular, it can also be made in frizzante and passito styles. The color is a brilliant ruby, with intense aromas and flavors of strawberry and raspberry, fresh roses and spices. Served chilled with chocolate desserts, such as mousse or ganache, a berry fruit tart or a berry gelato or sorbet.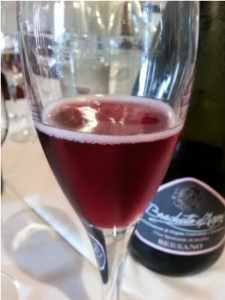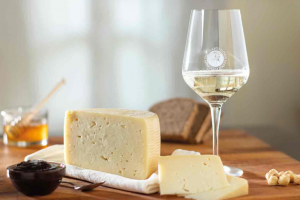 Moscato d'Asti Photo by Decanter
Brachetto d'Acqui Photo by Please the Palate
Piemonte is one of the culinary treasures of Italy and its cuisine is famous throughout the country. Restaurants pay a fortune for the white truffles from Alba and just a small sprinkling of shavings can send the price of a pasta soaring over E.40! The hazelnuts and chocolate are prized everywhere and the magical combination of gianduja sells the world over in the form of Nutella, invented in Torino during the rule of Napoleon.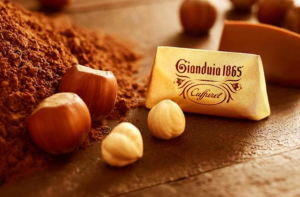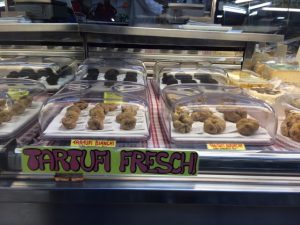 Gianduja Photo by Eataly White truffle in Alba Photo by Vinotalia
No Piemontese menu would be complete with Vitello Tonnato, thinly sliced poached veal roast topped with a tuna sauce with mayonnaise and capers. With a glass of Timorasso or Arneis!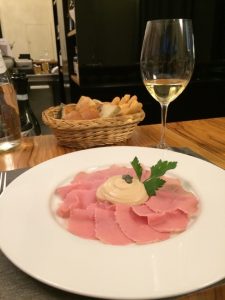 Vitello Tonnato & Arneis Photo by Vinotalia
The fresh pastas are a must have in any trip to Piemonte. Agnolotti, a fresh egg pasta stuffed with roasted meat and similar to tortellini. It is served with ragu sauce or butter, sage & parmigiano cheese or in a meat broth. Best with a glass of Dolcetto or Barbera. From the Monferrato area, they are tiny rectangles called agnolotti del plin. At the very top of the food pyramid is Tajarin, super thin egg noodles made with 40 egg yolks to a kilo of flour. The word is Piedmontese dialect for tagliolini. Tossed in a pan with melted butter and freshly shaved truffles – well, you would think that you died and went straight to food heaven! The town of Bra has its Salciccia di Bra, grilled or here made into a pasta dish, with a glass of Barbaresco, of course.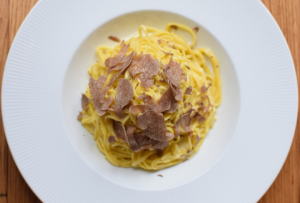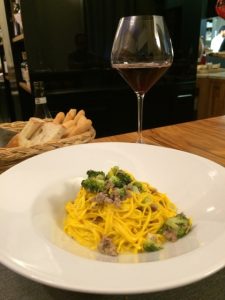 Tajarin with butter and white truffles Photo by Eataly Tagliolini with Salciccia di Bra Photo by Vinotalia
Risotto al Barolo is a typical first course found all around the Langhe and was a favorite of Camillo Benso, the Count of Cavour and prominent in the unification of Italy. For the second course, Barolo also plays a lead role in Brasato al Barolo, a rich beef stew cooked for hours in the wine. Another main course is Bollito Misto, consisting of various cuts of meats, slow boiled for hours in a broth with carrots, onions and celery. The meats are sliced and served with green sauce, tomato and anchovy sauce and mustard sauce. Maybe a glass of hearty Barbera!
After dinner, a plate of the local cheeses like Castelmagno, Paglierina,, Robiola di Roccaverano, Tomino or Gorgonzola paired with a passito of Erbaluce. Bonet is the chocolate pudding comfort dessert of Piemonte. Try it with a glass of sparklong Brachetto d'Acqui for the perfect Piemonte finish to dinner!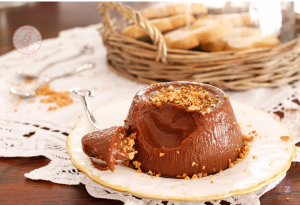 Bonet Photo by Giallo Zafferano