By Joyce Tarantino, Italian Wine Scholar
Home to the historic cities of Verona and Venice, the Veneto lies in the northeast of Italy, from the Dolomites on the border in the north with Austria, west to Lake Garda and east to the Adriatic Sea and the delta of the Po River.
As a wine region, it is the country's most prolific, producing almost 11 million cases in 2020. If it were a country on its own, this powerhouse wine zone would rank about 6th in wine production in the world. One of every five bottles of Italian wine comes from the Veneto. A part of the Venetian Republic for over 1000 years, the wine trade helped to make its fortune. Today, the city of Verona hosts one of the most prestigious wine shows in Italy and the world, Vinitaly, held every April.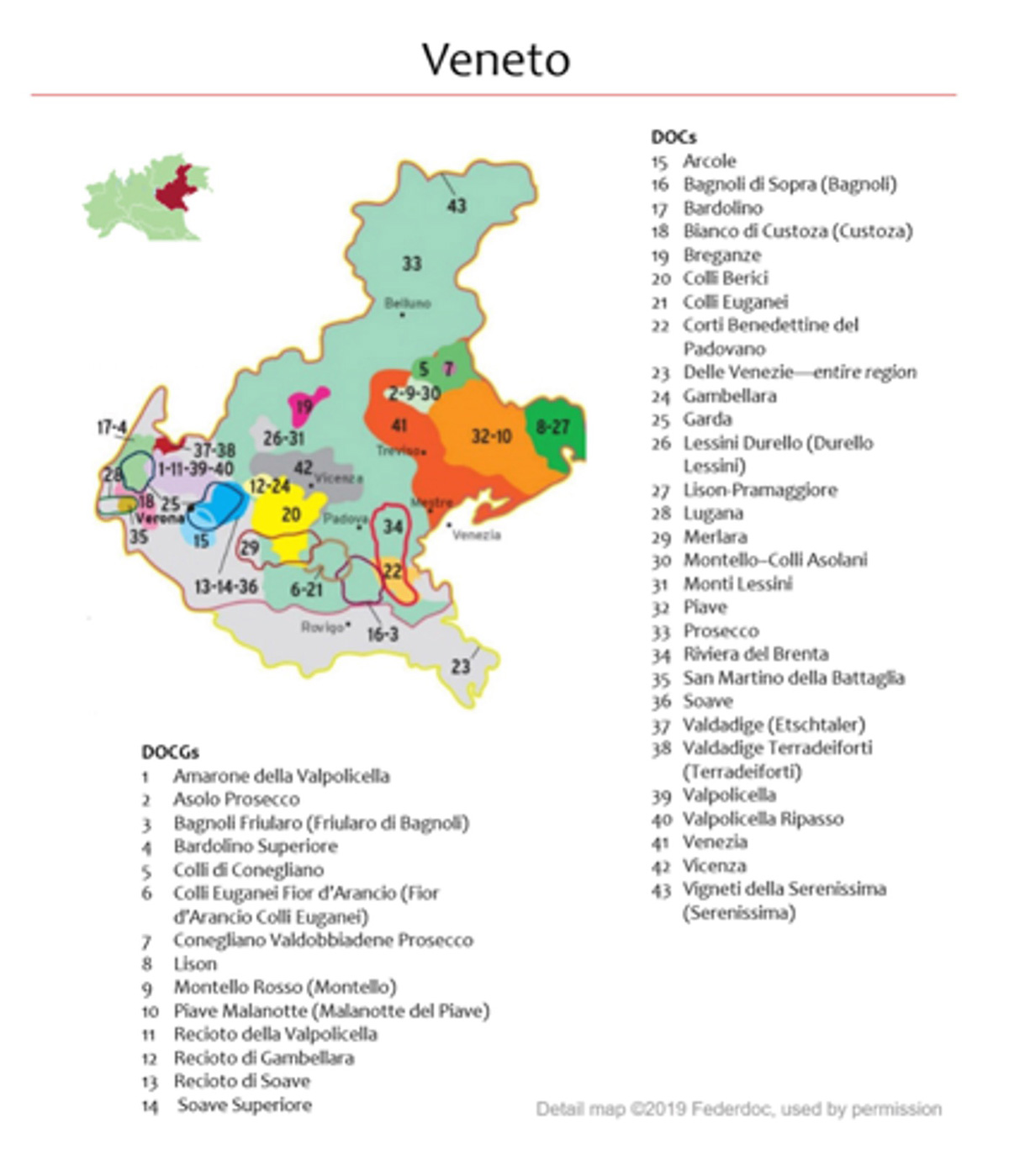 Probably found in the Veneto as a wild plant, cultivation of the vine existed here from the 7th Century BC by the Etruscan and Raetic people. The wine of Raetia, as this area was known, was praised by all the important Roman writers and was considered second only to the most celebrated and expensive wine of ancient Rome, Falernum. After the fall of the Empire, Acinatico, the sweet wine of the Veneto, was so favored that King Rotari of the Longobards issued an edict in 643 AD providing legal protection for the vineyards.
The Republic of Venice exported its wines and imported those of Greece and Cyprus. Venetian merchants really created the first instance of 'brand marketing' for wine in the promotion of Malvasia, which they found in Greece and traded from the port of Monemvasia on the island of Crete. From the later 1200's, wines from many different origins and different countries, but frequently made from dried grapes, were carried throughout the Mediterranean by the Venetians from this port. In time the name was Italianized to Malvasia. Today we find about 17 varieties of this grape in Italy alone and more in the countries bordering the sea.
Today, we find a region rich in autochthonous grapes – vines that are exclusively or predominantly grown in particular area – Glera for Prosecco; Garganega for Soave; Corvina, Corvinone, Rondinella, Molinara and Oseleta for Amarone; Corvina for Valpolicella and Bardolino. The lesser-known varieties include Raboso Piave, Vespaiola, Durella and Verduzzo Trevigiano. The Bordeaux varieties of Merlot, Cabernet Sauvignon and Cabernet Franc have been planted in the eastern Veneto for over 200 years. And the largest plantings in Italy of Pinot Grigio, Malbec and Carmenere are found here.
Wine styles include sparkling Prosecco in Treviso and Chiaretto rose from Lago di Garda; wines made from dried grapes like Amarone in the dry style and Recioto in the sweet style; still whites from Pinot Grigio and Garganega in Soave; still reds such as Valpolicella, Bardolino and the Bordeaux blends and some amazing dessert wines.
For sheer volume and popularity, we must start with the blockbuster wine, Prosecco. Hardly a bar or restaurant anywhere lacks an entry on the wine list. Documented by the Romans as a wine zone, Prosecco is first mentioned by name in 1754. Made from the Glera grape, more than 25% of the Veneto's vineyards are planted to this variety. The production region is located just about an hour due north of Venice, in the hills running east to west between the towns of Conegliano and Valdobbiadene The area was given the UNESCO World Heritage designation in 2019 for the uniqueness of its terrain and heroic wine cultivation. The Superiore classification of the wine has a DOCG denomination with the strictest standards. This year, the rose version of Prosecco was also recognized as an authorized method of vinification for a DOC wine. It can be finished in terms of sweetness from Brut, Extra Dry, Dry to Demi-Sec.
The Consorzio offers wonderful videos on its website to show the breathtaking scenery and the amazing efforts to grow wine in this historic wine region. https://www.prosecco.it/en/academy/
The very best versions of Prosecco come from the exceptionally steep slopes of Cartizze in Valdobbiadene at the north end of the zone. Considered the "Grand Cru" of Proseccos, only 1.5 million bottles are made.
While more expensive than most, prices are similar to many bottles of champagne. It is a must try for bubbly fans. Tasting notes include aromas of white peach, pear, green and yellow apple, geranium, rose and some tropical flavors like melon, kiwi and lychee. Pair with soft or smoked cheeses, sushi and sashimi, oysters and shrimp, quiches, risotto with seafood, prosciutto di San Daniele and mushroom dishes.
One of Italy's great red wines is found in the Valpolicella hills north of Verona. Amarone della Valpolicella is a dry wine, produced from the native varieties of Corvina, Corvinone, Rondinella, and Oseleta Negrara. Harvested by hand in September/October, the grapes are dried in an ancient process called Appassimento. Perfect bunches are placed on wood or plastic trays in a single layer and left to dry in lofts or specially built structures called fruttaio, using natural air flow or sometimes humidity/temperature controlled rooms. This process concentrates the sugars and evaporates the water, bringing tannins, color and intensity of flavor to the wine. In January/February, grapes are crushed and go through a long, slow fermentation of 30-50 days. After fermentation, the wine ages in various sizes of oak casks or barrels for 2 years and a Riserva for 4 years. A relatively recent addition as Italian wines go, first marketed in 1953, Amarone moved quickly to the forefront and is capable of ageing for more than 20 years. With flavors and aromas of roses, black cherry, dried black figs, black plums, cocoa, brown sugar, coffee and molasses, it is wonderful paired with dishes such as duck breast with cherry sauce, venison and wild boar, roasted goat, pork loin with fruit sauce, osso buco, pastas with hearty meat sauces, aged or robust cheeses and foie gras.
As Amarone, by virtue of the manual work and time of the process, is an expensive wine, start with a Valpolicella or Ripasso from the same region, made with the same grape varieties, and work up! Ripasso is made from the pressings of the dried grapes after Amarone is made and combined with fresh fermented grape must, so it's a good beginning. Here's the four denominations in this complex set of valleys:
Valpolicella DOC
Valpolicella Ripasso DOCG
Amarone della Valpolicella DOCG
Recioto della Valpolicella DOCG
The medieval village of Soave lies about 1 hour due west of Venezia. Garganega is the white grape variety, here and is thought to be among Italy's most oldest from the Graecanicum brought from Greece and cultivated by the Romans. The volcanic soils here of limestone and basalt, dating back 30 million years, are unique – the only spot with these characteristics found in northern Italy. Producing elegant and balanced wines, with mineral and floral notes, they have a particular finish of bitter almond. Aromas of white flowers, peaches and yellow plums, hay, herbs and almonds are typical.
Soave Classico DOC and Soave Superiore DOCG are the best examples and are sometimes found aged in oak. Recioto di Soave is the dessert wine made from semi-dried Garganega grapes, with flavors of citrus, dried apricot and honey. Typical food pairings for Soave wines are cheese, egg dishes like savory souffles and quiches, white meats like chicken, pork and rabbit, fried dishes, seafood and risotto. For more complex Soave aged in wood, a pasta with a sauce of duck or rabbit or baccala dishes (salted cod).
Other interesting wines from the Veneto to try:
Bardolino
It's made from the same grapes as Valpolicella with a growing area on the shores of Lago di Garda. Light and bright, it can be considered a "little brother". The rose version, Bardolino Chiaretto, has aromas of strawberry, grapefruit, red current, nectarine and apricot – perfect for appetizers, fish or white meats.
Bianco di Custoza
Considered the white equivalent of Bardolino, this is a blend of Cortese, Fruilano, Trebbiano Toscana and Garganega. These wines can be made in a still, passito (sweet) or spumante. For food pairings, try with fresh cheeses, fish, veal dishes, bruschetta and cold cuts.
Vespaiolo
A native grape of the Veneto, this variety is grown in the hills north of Vicenza in Breganze. It is named for the affinity that wasps have for the sweetness of the mature berries at harvest. Producing both still and sweet wines, it is best known for outstanding dessert wine. Look for Torcolato, with aromas of honey, orchard fruit, flowers and wood spice.
Raboso
Grown in the east around Treviso, this is another native red grape of the Veneto. A deep-colored wine with abundant tannins, the Venetian merchants called it vin de viajo, the wine of travel because it aged and transported well. Characterized by notes of violets and morello cherries, it pairs well with mature cheeses, wild game, and red meats on the grill.